Résumé
Graduated from IAE Toulouse with a Master in International Management, I have acquired generalist knowledge in various managerial domains strengthened by several internships. Very keen on working in marketing and sales in aviation, I am now specializing by studying in an Advanced Master in Air Transport Management at ENAC. I hope this last training will help me to get an opportunity to start a career abroad in a relevant position/company and continue to learn from experienced managers. Hence, I am particularly attentive to VIE opportunities.
Expériences professionnelles
Assistant market strategy manager
AIRBUS ATR SAS , Blagnac - Stage
De Avril 2013 à Septembre 2013
- Analysis of the impact on given airlines' scheduling of a new aircraft with different speed.
- Analysis of airlines' networks & fleet planning.
- Creation of graphs to promote ATR42/72 600 capabilities.
- Visit of ATR42/72 600 final assembly lines, delivery and flight training center.
Assistant revenue and network planning manager
TRANSAVIA.COM , Wissous - Stage
De Mai 2012 à Octobre 2012
- Creation of market reports to enhance revenue management and network planning decisions.
- Redaction of the Marketing Data Base's tutorial and organization of training session.
- Other reports for the revenue management, network planning and marketing departments.
- Participation to the B to B international tourism meeting, Top Résa 2012.
- Observation of a flight preparation with a captain and observation flights on B737-800NG (Grenada, Spain / Lisbon and Funchal, Portugal).
Long haul flight attendant
AIR FRANCE KLM DIRECTION REGIONALE MIDI PYRENEES , Toulouse cedex 9 - CDD
De Juillet 2011 à Septembre 2011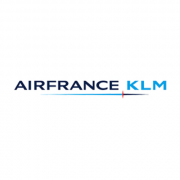 - Based in Paris on Africa - Middle East sector (52 destinations in 44 countries, 490 flights a week from Paris-CDG and Amsterdam, 14% of Air France KLM passenger turnover).
- Insure within the crew inflight service and optimize flight conditions for clients through Air France value.
- Aircrafts flown : B777-200ER / A330-200 / A340-300. Observation of approach and departure procedures for all these aircrafts' types.
- (One week commercial, security and safety training in Air France's Paris headquarter).
Assistant revenue manager
HOP - BRIT AIR , Morlaix - Stage
De Mars 2011 à Juillet 2013
- Creation of traffic reports on routes connected to the Brit Air's main HUB (Lyon Airport).
- Update and optimize a yield management tool.
- Discovery of commercial departments (revenue management and network planning).
- Discovery of technical departments (operations control center, maintenance, or crew training center)
- Visit of the International Paris Air Show "Le Bourget".
- Observation flights on CRJ100 & A319.
Intern passenger agent - saint denis de la réunion airport
AIR AUSTRAL , Sainte-marie
De Mai 2008 à Juillet 2008
- Assist to all the operations concerning passengers and luggage checking, boarding and disembarking.
- Observation flights on ATR72-500 and B777-200LR.
Formations complémentaires
Advanced Master
French Civil Aviation University - ENAC - Air Transport Management
2013 à 2014
Conférence des Grandes Ecoles (CGE) accreditated programme
Programme partnered by Toulouse Business School (TBS)

"The Advanced Master in Air Transport Management offers a systematic approach to air transport by examining it from the viewpoints of economy, operational working methods, marketing and financial strategies, productivity and management of human resources in airline companies, and finally the major issues and strategies of air transport in the future. It therefore covers all the subjects, which are essential for a career in the air transport field."
Master's degree
University of Toulouse Graduate School of Management - IAE Toulouse - International Management
2011 à 2013
EFMD / EPAS accredited programme

"The MIM is a two-year post-graduate Master programme offered by the University of Toulouse Graduate School of Management (IAE Toulouse). It is a full-time degree, entirely taught in English, designed for International and French university graduates. The programme provides companies with managers ready to deal with cross-cultural management situations and transnational business issues.

The MIM is a two year programme (four semesters) and equals 120 credits in the European Credit Transfer System (ECTS). First year students have the opportunity to spend a year in one of our 65 partner universities (America, Asia, Europe)."
Parcours officiels
TSM – Master 2 – Stratégie – 2013 – Master 2 mention International Management - parcours International Management

Anglais - Technique
Français - Langue maternelle
Allemand - Notions
Centres d'intérêt
Filming
Editing videos
Traveling
Hiking